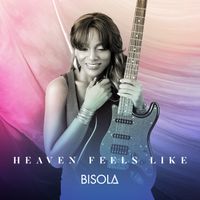 About 3 months ago I was reflecting on how we've heard so much about heaven most of our lives but do we really know what it's like? Is it real? What does it's existence mean for us as we journey through life? 
It inspired me to write 'Heaven Feels Like' as a way to process these questions. I know many believe there's life after the one we live here on earth and it's a source of hope for many, particularly after losing a loved one. The knowledge that while someone may no longer exist here on earth, the promise of being reunited with them someday in heaven is a source of comfort for many. 
 
It takes faith to believe that and sometimes as we journey through life our faith can take knocks and shocks but there's always a reward at the end of it. I wanted to highlight this truth in the song as sometimes people think having faith means everything will always work out as you expect and if it things aren't working out you need to believe harder or there may be something wrong with you. I've had my share of lows as I'm sure you have, but I'm grateful for faith even as small as a mustard seed which helped me keep hold on in the middle of life's storms and even when things haven't worked out as I would've liked I'm still standing and I've hopefully become wiser, stronger and better for it. 

Everyone's got their story of pain, loss, failure, things they've experienced, things we can't undo, but the thought that a place exists where we'll one day be free of all the human fragility and issues we've experienced sounds like a place I want to be, it sounds like something worth believing and holding on to - that definitely sounds like heaven. 
What do you think?

'Heaven Feels Like' is out now on all digital music platforms catch it on:
Spotify: https://open.spotify.com/track/2XMpe56FHBoQMAsW5uQrZd?si=20c97cfea1c94ada
YouTube: https://youtu.be/lSCAdir9XM8
Apple Music: https://music.apple.com/us/album/heaven-feels-like/1589620992?i=1589620993
Soundcloud: https://soundcloud.com/bisolamusic/bisola-heaven-feels-like