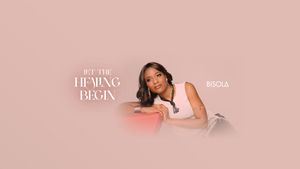 I'm dedicating my newly released track 'Let the Healing Begin'  to everyone who's battled through the lockdowns and pandemic over the last 18 months - I think that applies to a good chunk of the world to be fair. 
Many have been either directly affected or knows someone who's been affected in some way - it's an experience we won't soon forget. Even now we're still navigating our way through the change it's brought to our lives. 

When I started writing 'Let the Healing Begin' song it was in recognition of the fact that at some point we all need to rise up and begin picking up those pieces of what's beautiful that's been left behind and to begin re-building, re-framing and resetting our lives. I wanted to use it as a way to help us heal from what's happened and to give all of us hope for a better tomorrow. 

Everyone has had their own experience of what they've been through and as the song says 'no one can tell your story, no one can walk a million miles in your place' but I hope that whatever the case may be, we all come out or are coming out better, stronger, wiser and kinder. 

It really touched me deeply when someone who first heard this a few days ago said the song resonated with her in a personal way after a recent loss in her family. It reinforced in me the sense of responsibility I have to share this song as far and as wide as possible because who knows what the song might actually mean to someone out there. 

One final thing worth mentioning - if there's anyone reading this who's still in a dark place, you may be struggling to see a light at the end of the tunnel, I hope that this song gives you the strength to keep fighting and holding on tightly until things begin a turnaround for the better. I pray that once again you and all of us will see even more clearly, brightly and widely the hope, possibilities and joy that lie ahead of us. 
Much love xx 
Catch the Lyric Video here: